Leveling up your skills with these three fantastic patterns!
Friday Pattern Company Heather Blazer

From Friday Pattern Company: The Heather is an unstructured, modern blazer. This comfortable and stylish jacket has a slightly oversized fit and can be worn in all seasons. It is the perfect editorial layering piece. This pattern is designed to be approachable for the beginner sewist. If you have always wanted to dip your toe into making outerwear but have felt intimidated, this is a great place to start!

Sew House 7 Regalia Blouse

From Sew House 7: With all of its gathers, puffy sleeves and high collar, the Regalia still manages to look effortless and casual. The roomy fit of the bodice makes it so comfortable to wear. It pulls on over the head and ties at the back keyhole opening. It also features front and back yokes and a stand-up collar. There are two lengths and two sleeve designs to mix and match and an optional waist tie.

Untitled Thoughts Chandler Trousers

From Untitled Thoughts: The Chandler Trousers are the perfect pants for those just delving into the world of sewing trousers for themselves! It has a few bits that will expand your sewing knowledge, but with its easy elastic back waistband, fitting should be a breeze! In the course we'll be sewing them with pleats, slash pockets, a zip fly front and optional belt loops.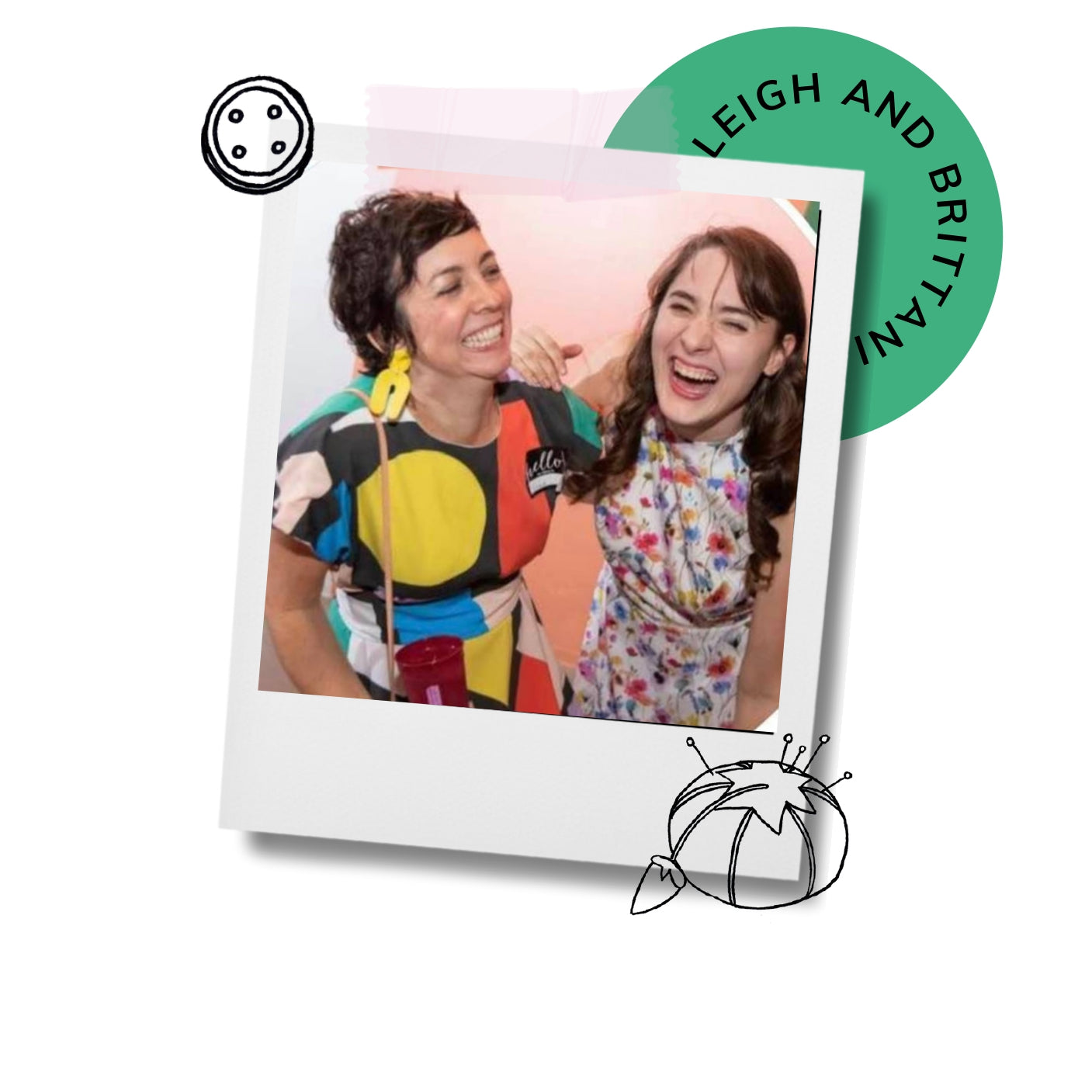 Hi I'm Leigh and this is Brittani!
We can't wait to help you create these fantastic garments to add to your wardrobe! Brittani has literally taught hundreds of people how to sew and improve their skills for the last 8 years, from learning to sew a simple pullover shirt to jeans to stunning coats and even wedding gowns, Brittani can do it all! Since 2017 I created both a physical and online space for members of the sewing community to learn from and with each other, crossing borders and boundaries to expand their sewing journey. Together we make a great team and we're excited to help you take your sewing journey to new heights.

What is our Intermediate Essentials Wardrobe Course?
It's a 5 week in depth online course of guided instruction, with a mix of recordings and live check-in sessions, to make three intermediate wardrobe staples–a blazer, a blouse and a pair of trousers. Just to make sure it's clear, this is a VIRTUAL course series - all online.
Here's how our Intermediate Essentials Course will expand your sewing journey…
Improve your skills ✂️ ✂️ ✂️

Go from curious about certain skills and techniques like how to line a jacket and sew in a zip fly to actually doing those skills!

Accountability 👯‍♂️

Weekly live check in sessions with Brittani every week will help keep you accountable to making progress and getting your questions answered

Motivation 💪

This course takes place INSIDE our online community Topstitch Makers, where you have the opportunity to connect with other sewists both in the course and in the main community 24/7.
What you will learn…
How to sew a blouse

How to sew gathers
How to sew set in sleeves
How to construct and sew a banded collar
How to sew in a yoke with the burrito method

How to sew pants

General fitting tips for pants
How to sew pleats
How to sew a back elastic waistband
How to sew optional belt loops
How to sew a zip fly
How to sew pants pockets

How to sew a blazer

How to construct and sew jacket lining
How to construct and sew a collar
How to construct and sew set in sleeves
How to sew patch pockets
How to sew a buttonhole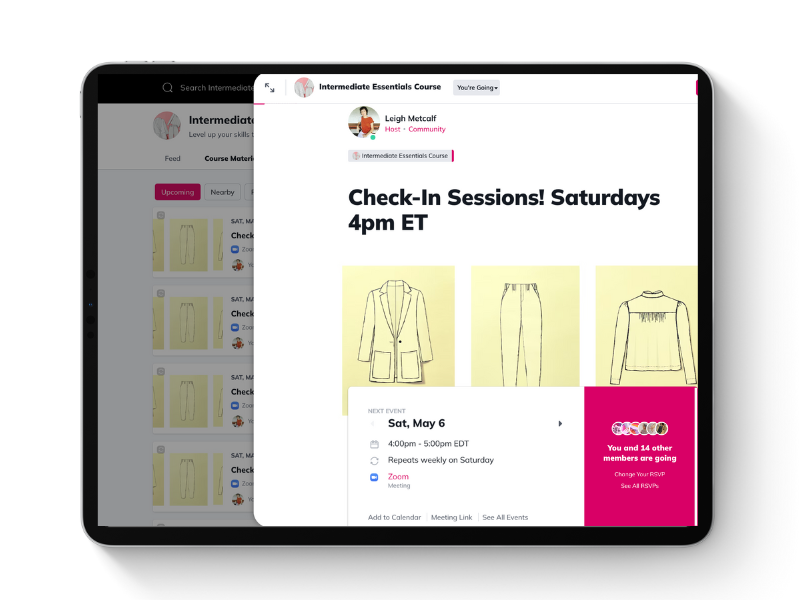 How you'll learn it
Each lesson will be a recorded module. These modules will be paired with a live session each week, with a total of 4 live sessions, May 6th, 13th, 20th, and 27th at 4pm ET. You'll have access to the recordings anytime and the online community 24/7.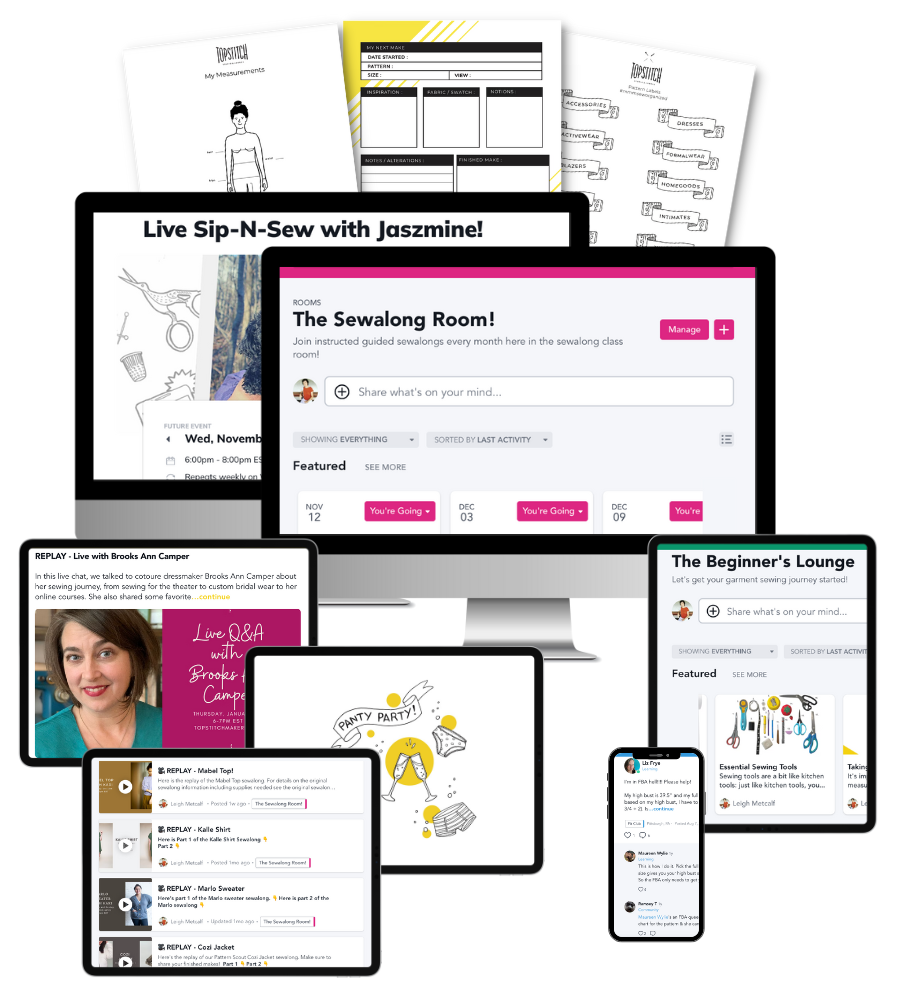 Here's what else you'll get…
We have a fantastic year long bonus for you which is ANNUAL MEMBERSHIP to our online sewing community, Topstitch Makers, where we have live, virtual sewing sessions every month. So, you'll have access to EVERY virtual sewing session that we have recorded as well as ALL the virtual classes we will have in 2023! *If you're already a member of our community, you'll receive a generous discount on the course.

Here are SOME of the virtual classes we've had. 👇
And...
here's a look at just a few of our sewalong replays. You get a LIBRARY of sewing sessions you can attend and re-visit anytime! Click here for a snippet of one for you to see what it's like.
Not only...
do we have live sewing sessions inside Topstitch Makers + the recordings of those sessions, but live talk sessions with special guests on various topics ranging from pressing tips to natural dyeing
AND you get our Studio recorded Essential Shirt Course, Beginner Essentials Course and Sergers Course! Have a peek inside one of the lessons HERE.
Beginner Essential Shirt Course

Beginner Essentials Course

Sergers 101 Course
Answers to your questions…
What if I live in Australia or Alaska or…?

It doesn't matter where you live so long as you have access to an internet connection! Everything takes place online through recordings and live check in sessions. The live check in sessions will be recorded if you can't make it to them live. They will be on Saturdays at 4pm ET.
I'm a plus size sewist, will these patterns accommodate me?

Each of these patterns is in an extended size range. The Heather Blazer - up to a 62-63" / 160cm hip. The Chandler Trousers - up to 58" / 147cm hip. The Regalia Blouse - up to a 70" / 178cm hip.
I'm a beginner, but I'm really interested these patterns and in this course. Do you think I can handle it?

You can totally handle this! If you've made a few simple garments, you can dive into these too. All the patterns are designed to be approachable for beginners who are ready to level up. Also, included in this course (bonus alert!) is our VERY BEGINNER Essential Shirt online course, a studio recorded course where we teach you to sew a simple garment start to finish, and it includes the pattern too. So, you're welcome to start there and then dive into the Intermediate Essentials Course if you'd like to.
What supplies will I need?

You'll need fabrics, thread, and notions like a button and your zipper as well as your own general sewing supplies.
What supplies are included?

The three PDF patterns are included in your course. You will find the patterns inside the course. You can choose to print and assemble them at home or have them printed at a copyshop. We also have fabric kits for available additional purchase for the main fabric of the Heather Blazer (not the lining) and the Chandler Trousers. We're offering a materials kit add on for these two patterns because we think a matching linen combo will be stellar! And we thought it would be super fun for you to choose your own favorite fabric for your blouse and the lining of the jacket to compliment the foundational linen.
When does the course start?

The online course "doors" open on May 5th and the first live Welcome session is on Saturday, May 6th at 4pm ET.
Will the live sessions be recorded?
How much does the course cost?

$395 - and remember it's not JUST the course for these three patterns, but access to our Entire Online Community for a whole year, which includes a library virtual sessions we've had and all the ones we will have in 2023! I meeeaaaannnn there is no sweeter deal than this.
The course is $195 for current Topstitch Makers Members.

Can I make multiple payments?

Yes! Choose to check out with Shop Pay in order to make installments.
How long will I have access to the course materials?

You'll have access to the course for one year. If you choose to continue to be a Topstitch Makers member after one year, you'll have forever access to the course for as long as you're a member.
What is your refund policy?

We want you to be happy! If you're unsatisfied with the course within the first week of having access to the online course space, we'll give you a full refund. The course doors open on April 29th. After May 7th, no refunds will be given.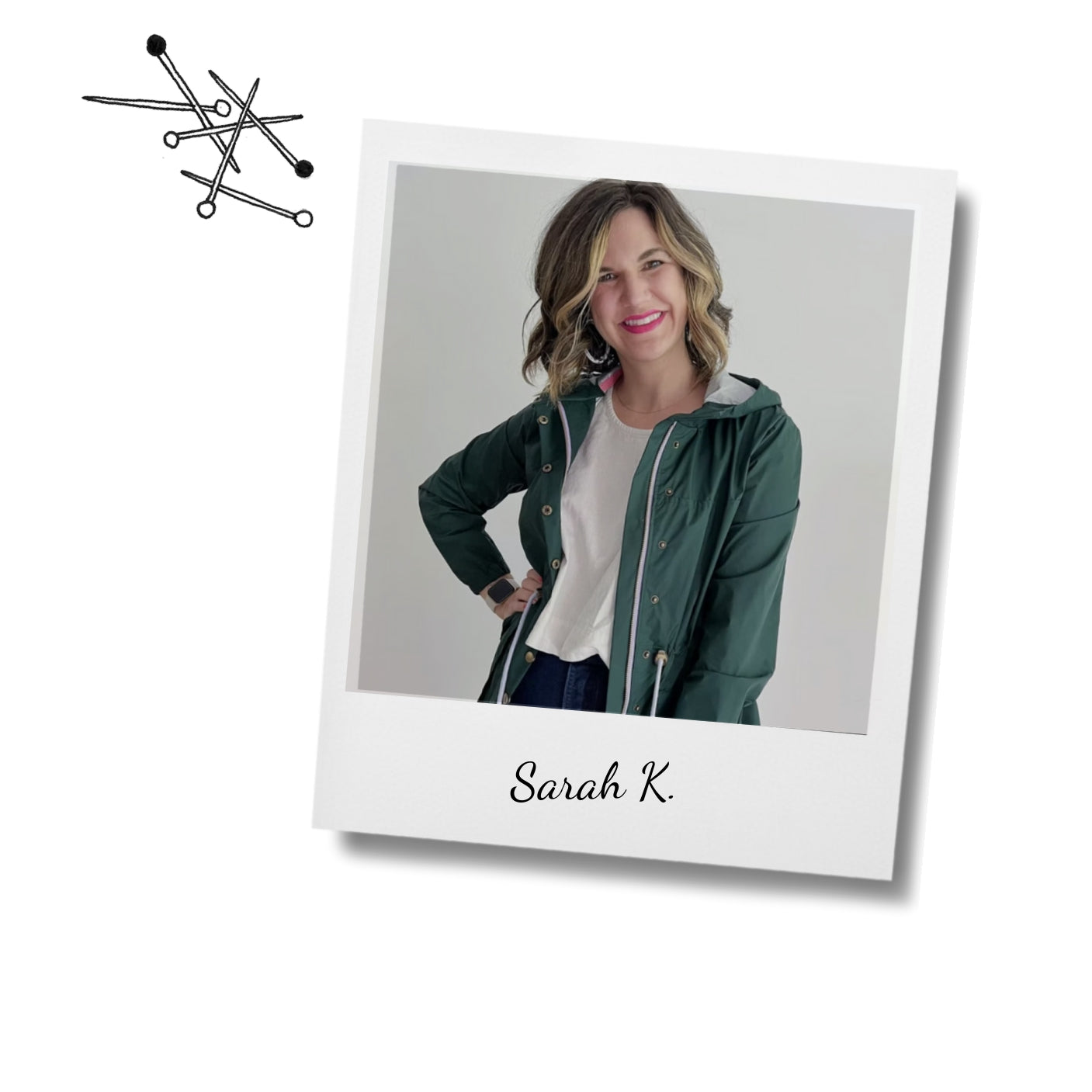 I have so enjoyed being a part of Topstitch Makers!
"The access to monthly sew-along classes is what pulled me in but I've stayed for the community and the premium/advanced classes. Over the nearly two years of being a Topstitch Maker member, I learned how to make my own jeans AND a waterproof rain jacket! Both of which I definitely wouldn't have been able to figure out on my own. In addition to those projects, I've also made a quilted coat, shorts, a bralette, and more in other live sew-alongs. Plus it's been so enjoyable getting to make new friends who enjoy sewing as much as I do!"
Say goodbye to… and Say hello to…
👋🏻 Buying an online course you will never take

✓ We make it super fun and unique to attend courses online that you will want to attend

✓ Learning with others IN community

👋🏻 Being stuck on your sewing level

✓ Leveling up with skills and techniques to become a more proficient sewist

👋🏻 Not knowing which patterns to choose to make a fab outfit

✓ We've picked two tried and true patterns that are AMAZING together and one new pattern (Regalia!) to make one fantastic outfit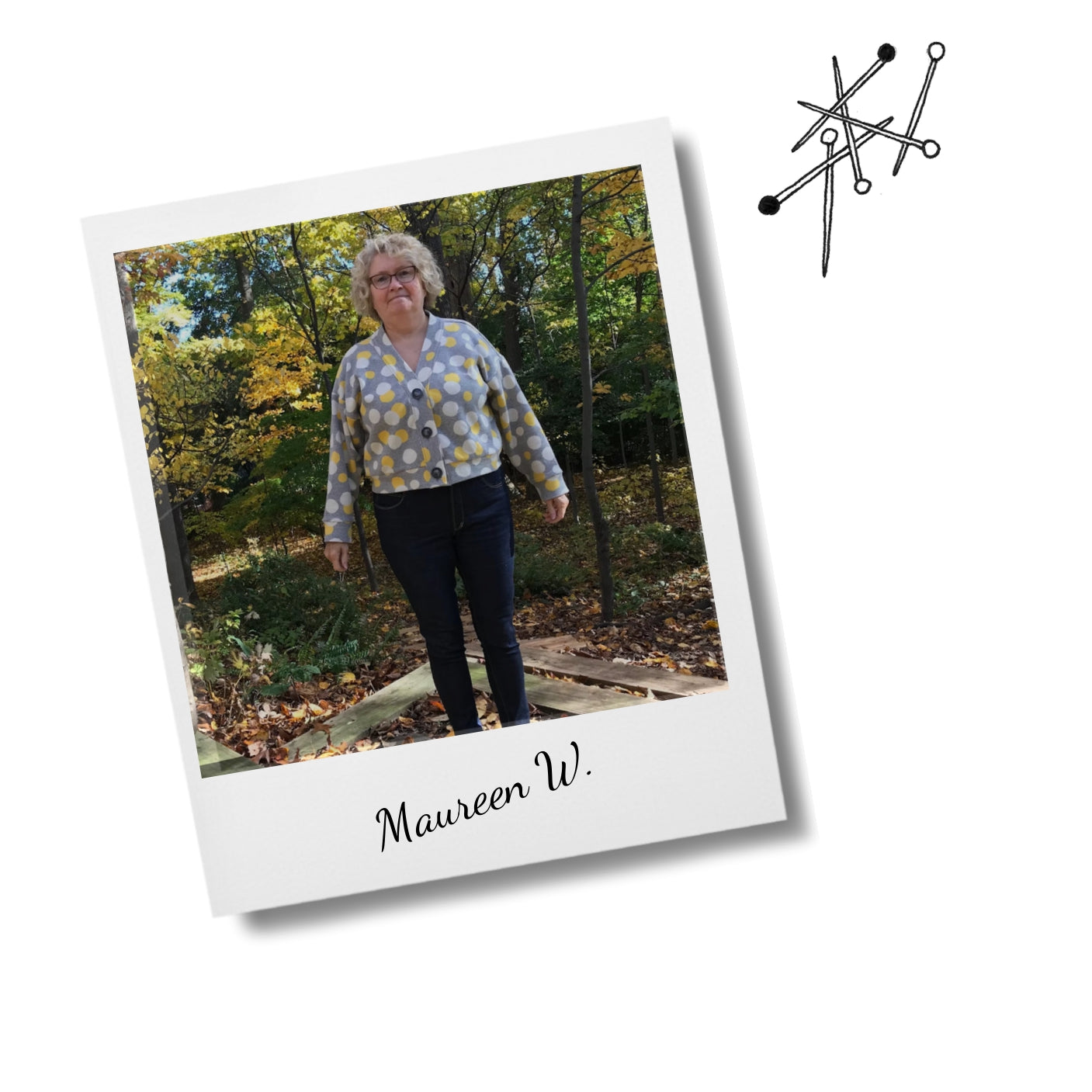 Topstitch Makers is super easy to use!
"Topstitch Makers is super easy to use, intuitive and works well on laptop, iPad, and mobile phone. The events function is great! I have participated in many courses, sewalongs, sip-n-sews, and Q&A's from the app using Zoom. No hunting around for a link, it is well organized and even syncs to my calendar!"
Registration is now closed!
Sign up for our newsletter to be notified when registration will open again.